One of our favorite project installations this year was a single-family residential design located in Roswell, Georgia. In incorporating the richly detailed history of Roswell, GA, a region that is never too old for vintage, perforated blackened steel, contrasting textiles, and warming woods to cozy leathers. This timeless design evokes a modern style of historic Charleston, South Carolina, that introduces a dialogue between history and modernity.Learn more about the details that went into the kitchen and living room as well as a Q&A with Lead Designer, Susan Boatright.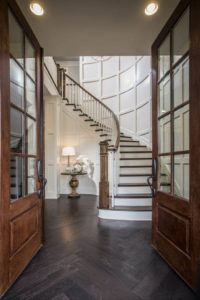 Upon entry, the curved wood-paneled staircase captures an innate angle of the design and living details. Nailhead – studded seating, offsetting beams, elevator access, dual fire place, accessorized elegantly with a sophisticated personality that brings the design to life.
What elements did you want to include? 
SB: I wanted it to feel inviting, comfortable, and stylish. It needed to be a place that all your friends want to gather and spend time together. I also wanted it to feel up to date as far as function, but feel like it had some history as well.
From the storage, granite countertops, fridge with a wine column, two tone cabinets, and butler pantry, this kitchen is goals all around. Susan brought in the southern charm with the gorgeous pendant lights and personalized touches, while the dark leather counter stools add some contrast and contribute to the modernity of the space. When it came to accessorizing, the goal was to help the buyers envision how they would utilize all of the countertops and shelving.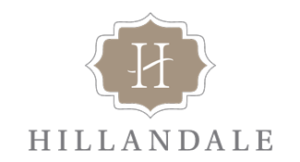 What was your story or intent when purchasing accessories? Who was the market or buyer you had in mind?
SB: I love doing model homes because I get to tell a story of who lives here. I wanted to tell a story of a family who loves to entertain family & friends and loves to travel and collect art and items from the places they have been.
What was your initial concept for the kitchen?
SB: The kitchen is the heart of the home and I wanted to design of this room to convey that feeling.
What is your favorite part of this space?
SB: I love the flow of the space and the eating island table.
What was your original inspiration for the living room?
SB: I wanted this room to convey a comfortable ease that made you want to sit down with a cup of coffee.
Can you talk about the different textures and patterns you used for this space? Do you have a favorite detail or fabric in this design?
SB: I think the textures and patterns are what make this space feel comfortable. The drapery fabric is where I started to pull the colors for this room. I love the colors and pattern of this fabric. From there, the other pops of color in the room came to life.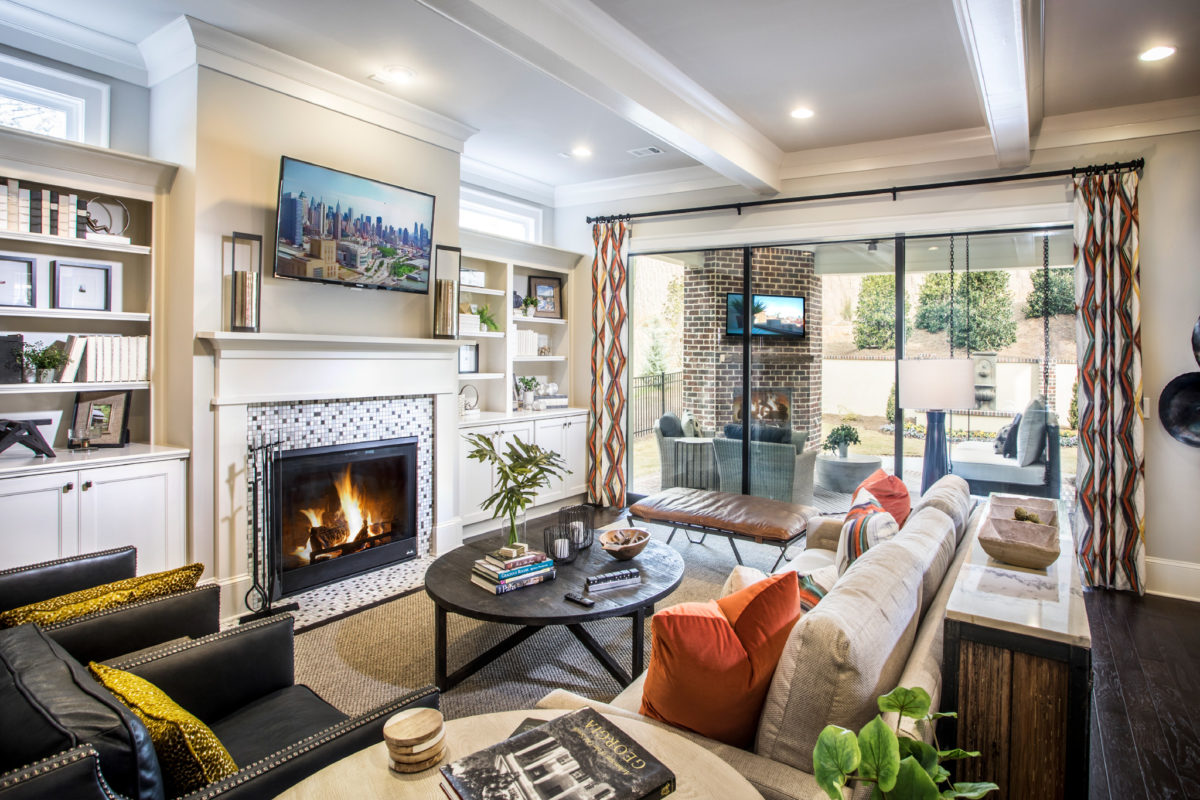 The warm hues of this space make this living room feel inviting and cozy. The intermixing textures and colorful patterns- such as the detail around the fireplace, the striking drapes, and the exposed brick on the outdoor patio- all seamlessly come together to create this eye-catching design. This room also required a good amount of accessories. Accessorizing is one of the most important parts in completing a design, especially in a space this large. When shopping for accessories, it is important to continue your theme and story throughout the space to make the design believable. This room and rest of the model accomplish just that by keeping the story flowing and making it feel like not just a house, but a home.
The Hillandale Model appeals to its audience's expectations by focusing on textures and colors that go beyond design; but most importantly, functionality,with an overall style and high quality of life offered in a peaceful lush setting.
Want to see more from this design? Follow the link to see more pictures and a 3-D walkthrough!
http://pmcommunities.com/communities/hillandale/